Great tourism growth in Lithuania, Latvia and Estonia in 2016
2017-03-16
Due to the novelty of destination, multiple attractions and high standard of travel services Baltic countries became one of the fastest growing tourism destinations within EU in 2016.
As it is hard to estimate all numbers of tourists visiting 3 Baltic countries we will be referring here to the hotel accommodation statistics provided by National Statistics organizations of Lithuania, Latvia and Estonia.
Hotel guests number has grown in 2016 in Lithuania compared to 2015 by 9.8%, Latvia this figure has grown by 7.7% and Estonia – 7%. In Lithuanian and Latvian hotels the major markets were domestic and Finland was leader in Estonia with 46% of hotel guests in 2016. For Lithuania the biggest foreign markets were Germany, Belarus and Russia, for Latvia – Russia, Germany and Lithuania and for Estonia – Finland, Russia and Germany.
Domestic tourism growth in Lithuania was the biggest highlight in travel industry – local inhabitants number in Lithuanian hotels has grown by 10.2% compare to 2015. Latvia highlights tourist arrivals growth from China - by 57%. Estonians also mentioned very good growth of tourists from Asian countries. Unfortunately, exact numbers are not available yet.
And finally here's chart with the 2016 hotel accommodation results in Lithuania, Latvia and Estonia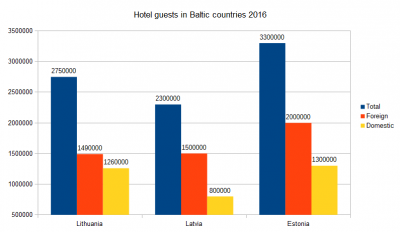 We do hope that year 2017 will be even more successful for Baltic countries tourism as the demand for our countries is strong both for domestic and foreign travel.