Wellness weekend in Druskininkai
2017-03-13
This blog post was written by our trainee from France Adeline Vuille after her weekend in Druskininkai. She was so excited after the trip that we asked her to share her memories from it.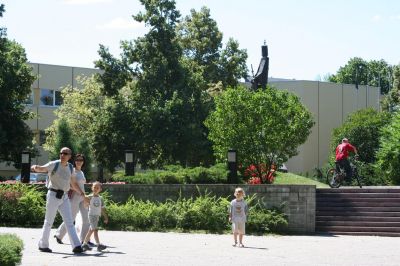 Lithuanian resort town Druskininkai is a nice year round destination especially for tourists seeking active holidays or on the contrary, for the ones who would rather relax. If you recognize yourself in this description, this article will propose you activities meeting your desires.
About 130 km from Vilnius, named as "salt makers", the resort town Druskininkai stands on the confluence of Neman (Nemunas) and Ratnycia rivers. Being famous for its natural mineral water springs, the city was settled by the doctors in 17th century, after which many therapy centers and active leisure attractions were created to promote wellness and health.
Here is the list of most prominent attractions for active leisure in Druskininkai:
Druskininkai Aquapark is the largest water park in Lithuania with multiple swimming pools, water slides, saunas etc. Even 2 hotels are incorporated into the aquapark so you can go swimming right with your bath-robe.
The Snow Arena: the only winter activities complex in the Baltic States where you can ski all year round. And not to worry if you're a fist-timer - there are tracks for the beginners and the pros.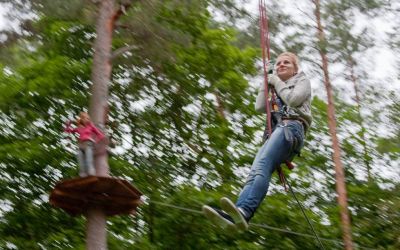 One Adventure Park: for outside activities and adrenaline junkies, the tree climbing park is a perfect choice. Different climbing trails for adults and children and a zip line of 400 meters across Nemunas river are all for you to try out.
Rent a paddle boat and sail on the lake of Druskonis.
Vilkes Golf Club: located 19 km from Druskininkai, the 18-hole golf course is waiting for you.
Of course, the main attraction of the city is the abundant choice of SPA centers offering health procedures, relaxing baths, massages and many more. Most of the health centers are integrated in the hotels which makes Druskininkai a distinctive destination for Wellness tourism in Lithuania and the Baltic States. So, if you are seeking for more relaxing holidays, Druskininkai will surely satisfy your needs.
Being long enough in the tourism industry, we consider the hotel Grand Spa Lietuva to be the best at the moment for a wellness vacation in Druskininkai. The hotel is actually composed of one 3star and two 4star hotels and includes the Aqua Park, SPA center, two restaurants and one conference hall to satisfy your every wish. The wonderful services in detail:
The Aqua Park: a place for both adults and youngsters to enjoy. The area is actually divided into two parts: one with a swimming pool, Jacuzzi, slides and an area for children and the other filled with various types of saunas and a Hammam, organizing free procedures, depending on day and time.
The SPA center offers consultations with diagnostician to help you choose the best fitting treatments. Don't forget to book your treatments in advance!
Within the complex is situated conference center with 7 halls and the largest one can accommodate up to 350 delegates.
In the Grand SPA Lietuva you can choose between 2 restaurants, lobby bar and fito bar.
Memorable moments in the Hotel Grand Spa Lietuva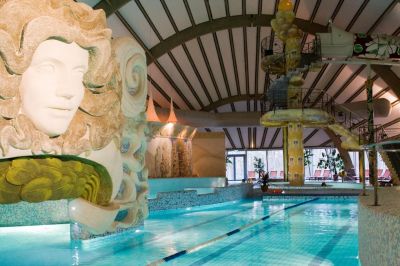 One of many packages offered by Grand SPA Lietuva was "Memorable moments" that we have tried out ourselves. This package for two includes: one night in the accommodation of our choice, breakfast and dinner, one healthy cocktail, a pearl bath or halotherapy, a classical back massage and an entrance to the Aqua Park with a complementary cup of tea.
We have chosen to stay in a 3star "Lietuva hotel" premises to enjoy the full Aqua Park experience for 2 hours. And we were not disappointed: we were greeted by very nice and helpful receptionists, accommodated in a comfortable and well-equipped room with bathrobes to go to the treatments or to the Aqua Park. The meal choice at a buffet type breakfast and dinner was not as rich as you would expect, but as it's said: quality is more important than the quantity!
Our stay was enlightened by a pearl bath and a classical back massage. Although the pearl bath doesn't feel special and lasts only 15 minutes it has good health properties. As for the massage, the experienced masseur can truly make all your troubles melt away. All of these wonderful treatments are complemented by the fact that everything is in one building! Even more, you can work out, play tennis, table tennis, squash and bowling at the Sukurys Leisure Club.
This "Memorable Moments" package was a memorable moment indeed. It can be a good idea as a present for your friends, family or even yourself!
And sure, there are plenty of wellness programs to choose from.
In addition to the amazing and relaxing hotel care, we visited couple of main attractions of the city:
The museum of Ciurlionis where famous compositor and painter lived with his family. You can also enjoy a concert dedicated to the artist and discover his music during your stay.
Around 10 km from Druskininkai, in a small town of Grutas, you will find the Grutas Park. This park is extraordinary as it gathers the relics of USSR from all over Lithuania. Sculptures and other exhibits expose the propaganda used during the soviet period; park's restaurant makes exclusive mushroom dishes and meals that were served at that time.
If you're not a fan of touristic places, simply take a walk. You can stroll down along the bank of Nemunas river or explore the town with its wooden villas built in the time of Russian Empire, presently turned into hotels.
More information on Druskininkai is available on the website of Druskininkai Tourist Office.
Adeline Vuille